February 1, 2020
Property Management Software and Amenity WiFi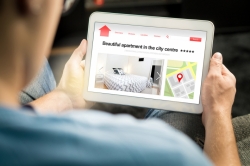 Today most people are comfortable using the internet for just about everything, so how do property managers leverage online tools to improve your interactions with residents? Odds are you probably already have a Facebook page and various other social media properties, but none of these are as useful as your management software and the resident portal when it comes to providing and receiving information that is specific to each individual resident in your community.
As a property manager you are probably well aware of how useful good property management software can be for keeping your operations organized and effective. It allows you to maintain communications with your residents, track rent payments, work orders, access important files and manage accounting information. Having easy access to this information makes everyone's lives easier, including your residents. No matter which software you are using, two tools that the best programs offer for the benefit of the tenants are a resident portal and a user friendly app where they can easily access their portal to make payments and view messages from the property. Many of the most popular solutions offer these features, including RENTCafe, PayLease, Buildium and more.
We have developed a new template on our WiFi networks that is specifically designed to instantly connect residents to their tenant portals from all of the shared amenity areas of your property. This feature will allow each resident direct access to their portal every time they connect to the amenity WiFi in the fitness center, lobby, office, pool, lounge and other common areas. Whenever they connect their device to the network they will be immediately directed to their online portal.
This new template is paired with our interactive WiFi Login page which gives the user the option to download your mobile apps directly from our WiFi service with one click. With options for Google Play and iTunes we are providing the easiest and most streamlined way for you to connect to all of your residents in an instant.