November 9, 2018
WiFi Designed for Restaurants and Guest Engagement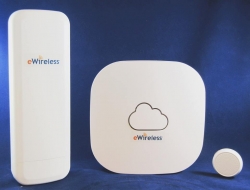 eWireless™ , a pioneer in interactive and strategic public WiFi solutions today announced their first line of original cloud managed Wireless Access Points engineered to interact with consumers.
Since 2002 eWireless has primarily focused on deploying and managing WiFi networks through their proprietary cloud-based management software. With the capacity to manufacture their own equipment eWireless will be able to offer Wireless Access Points that are purpose built to be blazing fast and with features designed to allow for the best possible customer experience and consumer engagement.
The new line of eWireless Access Points was engineered with restaurant groups and public spaces in mind. Industry leading engagement tools come pre-built into the system to create an enhanced guest experience. "In order to be used as a competitive tool , WiFi in public spaces has to do much more than just offer access to the internet or collect data. To be truly effective, WiFi in resturants should be offered in a more strategic fashion and leveraged as a vehicle to help drive the brand experience. Strategic WiFi will level up customer engagement by delivering targeted marketing content to facilitate more interaction with people at the locations where WiFi is offered. WiFi is an opportunity to get a stronger connection to the customer." Says Kurkowski
"We have worked with some great technology partners for our hardware in the past, but we felt that it was time to produce a line of our own that was designed to better meet our client's needs. We designed a line of equipment that is fast, secure, has incredible coverage and is able to drive engagement with the guests. When our clients get better engagement with their customers, they get better brand loyalty. " Says Henry Kurkowski - CEO of eWireless.
eWireless has also designed the ability for their Wireless Access points to offer three different WiFi networks at the same time. One for public use, a second WiFi network for on-site managers and a third which can be used for the IoT and systems that require a dedicated internet connection. This multi-faceted approach allows for better operations management and increased efficiency.
One WiFi, a division of eWireless, will now exclusively use this new line of eWireless Access Points for their customer deployments . "This is one of those skate to where the puck is going to be moments." according to Henry Kurkowski "WiFi has evolved to be a central element in the digital marketing ecosystem. It integrates well with other digital elements and creates a symbiotic relationship with a brand's existing digital assets. The future of WiFi is in its ability to connect with consumers."